Published 29 Sep 23
Unwrap Joy: The Ultimate Guide to Gift Vouchers for Your Business
Written by Jen
Tagged as vouchers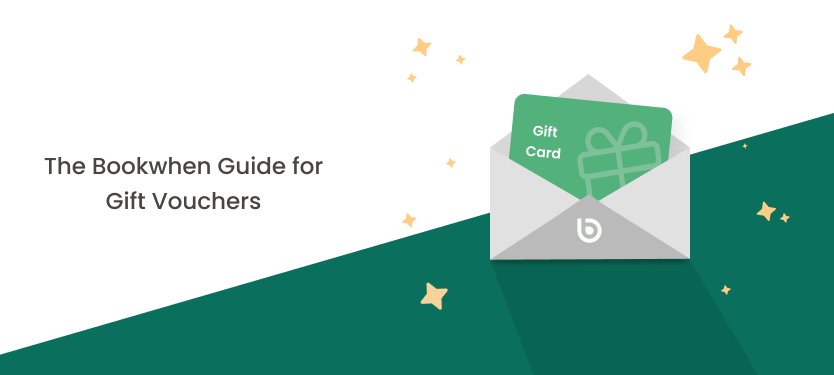 In the ever-evolving landscape of businesses, finding creative and effective ways to attract and retain customers is essential for growth. One strategy that can significantly impact your business's success is the use of gift vouchers, something which we're proud to announce is now available at Bookwhen. You can read more about gift vouchers in our guide as well as FAQs here 🥳


Why you should offer Gift Vouchers to your bookers..
📈 Increase Revenue
Gift vouchers are essentially prepaid sales. When customers purchase gift vouchers, they provide your business with immediate revenue, even if the actual goods or services are redeemed at a later date. This steady influx of cash can be especially helpful during slow periods.
👋 Customer Acquisition
They introduce new customers to your business. When recipients redeem their vouchers, they often become first-time visitors, allowing you to showcase your products or services and convert them into repeat customers.
🤗 Boost Customer Loyalty
They can be used strategically to reward and retain loyal customers. Offering vouchers as part of a loyalty program or as a thank-you gesture for repeat business can enhance customer satisfaction and encourage ongoing patronage.
👩🏾‍💻 Data Collection and Booker Insights
When customers redeem gift vouchers, you gain valuable data about their preferences and behaviour. This information can be used to refine your marketing strategies, personalise future offers, and enhance the overall customer experience.
Being in the middle of November, we're not too far from the festive period, so now might be a good time to start planning ahead. Ollie, one of our Support Team members, has written a Festive Roadmap of winning and engaging strategies. One of these is gift vouchers which can be an excellent way to attract new customers, especially during the festive period when many people buy them as a present for their loved ones. Once they've experienced what your business has to offer, you have the opportunity to turn them into loyal, repeat customers.


Types of Gift Vouchers
There are quite a few different types of vouchers that you can offer to your customer base depending on the type of goods/services you sell. However, these tend to fall into 3 key groups:
Monetary Vouchers:
These can be redeemed for a specific value, allowing recipients to choose the desired products or services. They offer flexibility and can be used across various offerings within your business. We're excited to be bringing this new functionality into Bookwhen.
Experience-Based Vouchers:
These vouchers offer a predefined experience, such as a spa day, breathwork workshop or a weekend getaway. They can create memorable moments for the recipients. While we don't currently have this, please let us know if this is a feature you'd like!
Discount Vouchers:
These vouchers provide a percentage or fixed discount on specific products or services, enticing customers to make a purchase. Read more about this in our discounts guides.


Tips on setting up Gift Vouchers at Bookwhen
🏃 Get up to Speed
Check out Bookwhen's help guide on how to create gift vouchers, and ask our team on live chat if you need any help. Always remember to test the booking flow before going live by signing out of your customer account.
📝 Rulebook Time
Lay down the law with clear gift voucher usage terms – think expiration dates and any sneaky fine print (hyperlink). Trust us, transparency is key!
👀 Watch and Learn
Keep an eye on how your gift vouchers are doing from within your account. Crunch the numbers, gauge their impact, and tweak your game plan as needed.


We have a few restrictions around offering gift vouchers that you can find in our guide, so please familiarise yourself with them before setting these up for sale. We're due to release further improvements as we go, so if you have any suggestions, please contact the team on live chat. The key features we're most excited about are:
Gift voucher audit trails (i.e. the expiry date and what events/passes the voucher has been used on)
Gift vouchers are redeemable against tickets and passes
Visible balance checker so you can check the balance for each voucher purchased by a booker
We hope you enjoy selling gift vouchers as much as we have loved creating them as a feature!
If you would like to get more information or guidance on any of the suggestions and options mentioned above, don't hesitate to reach out to our support team via live chat or email support@bookwhen.com. We also have a guide for your bookers on how to purchase, redeem and check their gift voucher balance which we recommend sharing with them. 🕺